Warcraft Logs Companion (Help)
The new Warcraft Logs Companion application uses Overwolf to allow you to manage your logs both on your desktop, but also in-game using an overlay.
The new companion also brings new features, allowing you to view reports, characters, and guilds in-game.
As well as this, you can make your report filters more accurate by using the Call a Wipe hotkey mid-fight. This will then allow you to filter your report to only the events that occurred before the hotkey was pressed, which can give you more accurate analysis of wipes.
The in-game app also provides an easy way to lookup characters that have applied to your Group Finder groups.
Install the Companion
First, install the Warcraft Logs Companion app.
By default, the Warcraft Logs Companion will launch automatically in-game when you launch World of Warcraft. You can also launch the desktop version manually by searching for it in the Windows start menu:

Once launched, you can click the "Settings" in the top-right to change app-specific settings:

This lets you configure whether the app should launch when the game launches, as well as alter any hotkeys that the app uses.
You can also configure the app to auto-close Overwolf whenever you close the app. If you combine this with disabling the Overwolf setting to "Start Overwolf when Windows starts", then you can ensure that Overwolf will only run while the app is running. Note though, that this will mean the app won't auto-launch when the game launches, and other Overwolf apps you have installed will be effected similarly.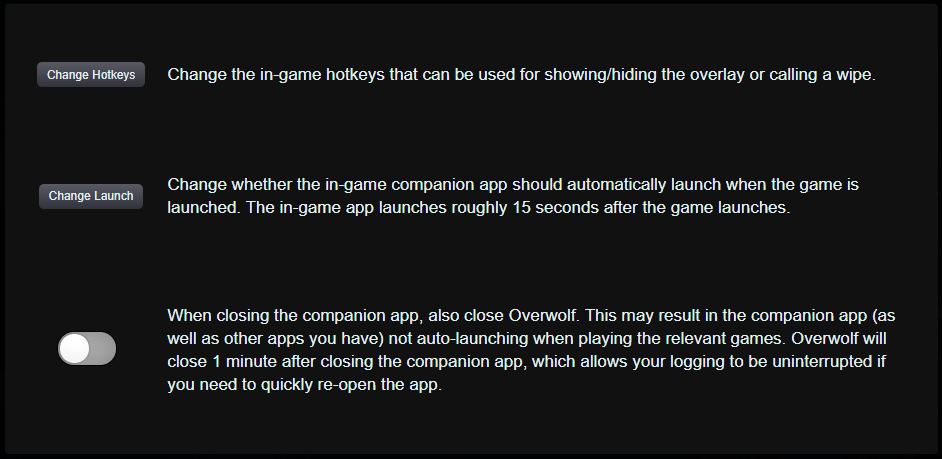 Getting Ready to Log
To make sure your logs have enough data in them, you will need to enable Advanced Combat Logging, which you can find in Game Menu -> System -> Network.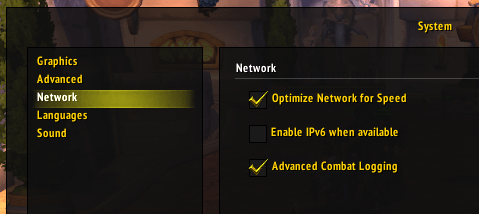 Then, type /combatlog in-game. This causes all of your combat data to be written to a file on your computer.
Using the App
There are two ways to run the app: In-game or Desktop mode. You can switch between modes through the switch located on the top right:

In In-game mode, the app runs as an overlay drawn on top of your game. This allows you to use all of its features without having to leave the game. Running it in Desktop mode, however, allows you to run the app on a separate window, giving you a nice second-screen experience. If you start the App without having launched World of Warcraft, it'll open in Desktop mode.
The choice of mode comes down to personal preference, as both modes are fully featured and functionally identical.
In In-game mode, when you launch World of Warcraft, the in-game app will launch shortly after. For players with multiple monitors, note that the in-game app will only show while the game is in focus.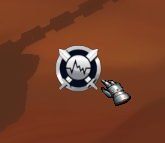 If this is the first time the in-game app has been launched, then it will appear in the top-left corner of the game. However, you can move the app by left-clicking and dragging with the mouse.
The in-game app is designed to be compact and slot nicely into your existing UI. You can also toggle its visibility using the Show/Hide Overlay hotkey.
By clicking on the in-game icon, you can open the app and access all of its features.
Using the Logs tab
When you select the Logs tab, you get a few familiar options to those who are used to our existing uploader:

Uploading a log
If you have already finished playing and have a combat log file ready to upload, then you can use the Upload a Log action to upload your data to Warcraft Logs.
If your log file contains multiple raids, then you can use the Select Specific Raids To Upload toggle to only upload the fights that you are interested in.
Live logging
If you are about to start raiding and want to log the raid in real time, then you can use the Live Log action to upload data from your combat log file to Warcraft Logs continuously.
Remember: You must enable combat logging by typing /combatlog in World of Warcraft.
Select Live Log: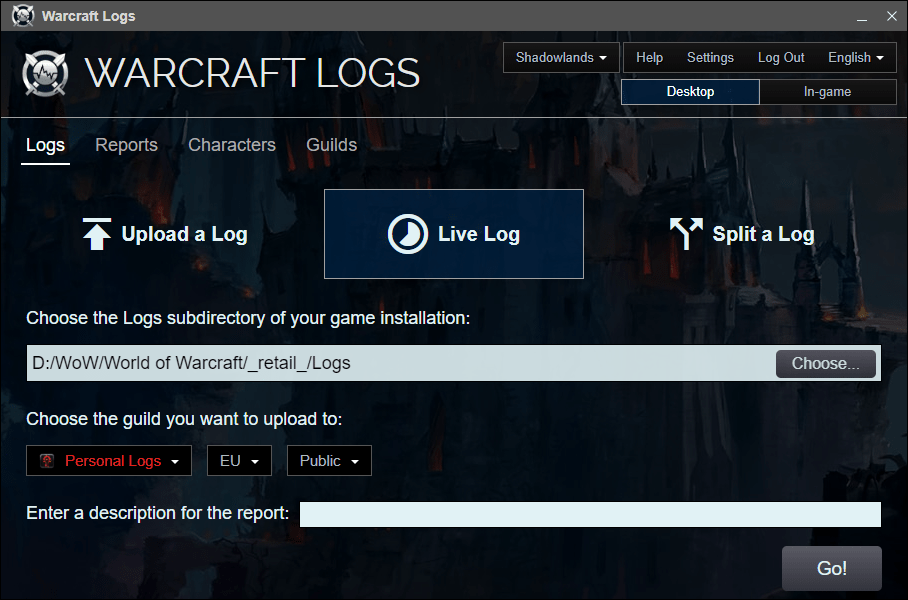 This lets you start live-logging as usual: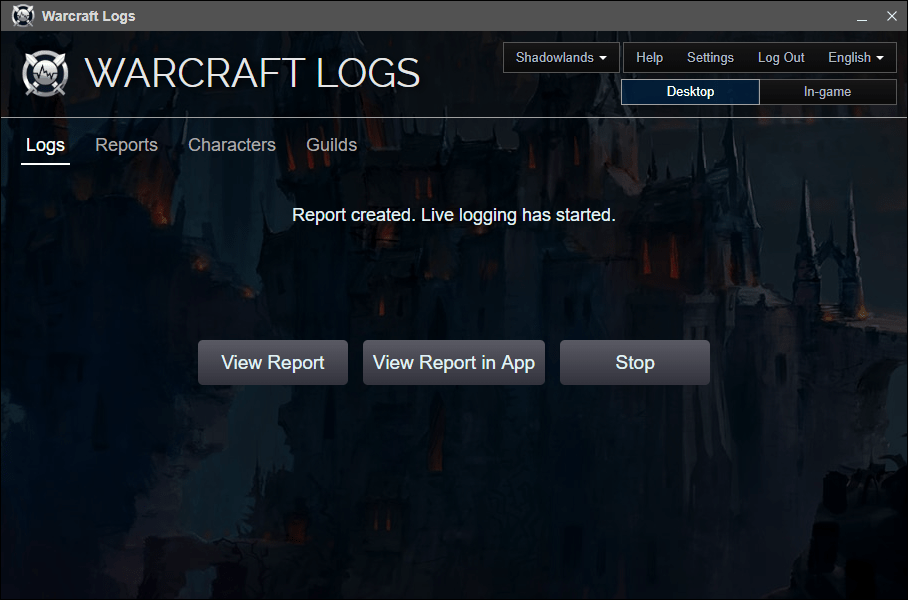 If running in In-game mode, you can safely close this window, and live-logging will continue.
When you are finished, click the Stop button.
Splitting a log
If your log file contains multiple raids, then you can use the Split a Log action to split the file into one file per raid.
This can be helpful when your original log file is too large to be uploaded with the Upload a Log option.
Browsing reports, guilds, and characters

The Reports, Characters, and Guilds tabs can be used to browse Warcraft Logs pages.
If you are logged-in, then these pages will default to showing you relevant information about your own characters and guilds.
You can navigate backwards, forwards, and refresh the current data using the navigation controls:

Calling a wipe
Remember: You can only call a wipe while live-logging.
If you hit the Call a Wipe hotkey while live-logging, the wipe time will be recorded in the uploaded report, and you can then use the filter above the graph to ignore all events that occurred after the wipe: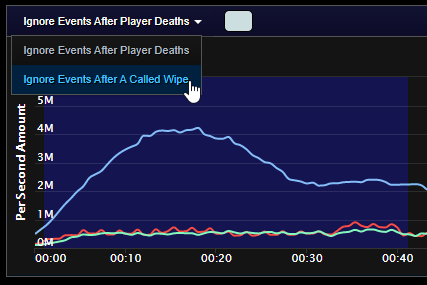 This can be useful to filter out damage taken and deaths that happened deliberately in order to wipe faster.
A line is also added to graphs to indicate when the wipe was called: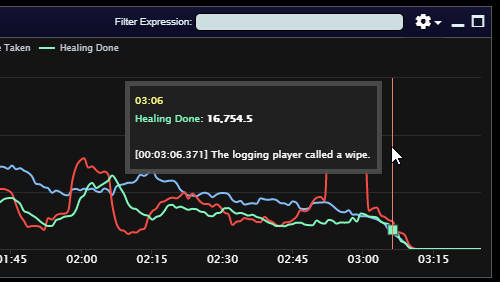 Looking up group finder characters
When players apply to your groups using the Group Finder, you'll notice that a red circle with a number appears over the in-game logo overlay. This number shows how many characters are currently applying to join your group.

Clicking on the in-game icon will open the app window with the Characters tab selected, and there will now be an extra section in the top-right that lets you click through the profiles of the characters that have applied. Each link also shows a brief summary about that player, including their specialization, covenant, and all star points. You can use the options above the list to swap between raid progress and dungeon scores, or to sort the list by different metrics.